WELCOME TO Ms.Lie's BEAUTY SHOP
Tony Moly The Oriental Gyeol Goun Two Way Pact SPF48 PA+++
IDR 235.000
Available:
- Natural
- Bright
This compact and bb combo are from the same Oriental Gyeol concept line as the Oriental Gyeol Whitening Cream only difference is that, that one for whitening. Both has Cheongyeol Boyundan which is a skin care herbal formula that soothes skin and makes the skin texture smooth while giving it also a bright and transparent look.
The Oriental Gyeol Goun BB Cream SPF 46 PA++
This high-quality BB Cream will make your skin healthy so that it appears bright and revitalized. The active ingredients of concetrated traditional Korean herbal substances such as Cheongyeol Boyundan, and five-color powder will conceal skin blemishes and dull complexions.
Gyeol BB cream has the most effective covering effect amongst all the other bb creams from Tony Moly. Heavy-duty covering effect Moist and firm wrinkle care, whitening & UV ray protection.
This velvety-texture two-way-cake contains the active ingredients of Cheongyeol Boyundan with an anti-aging effect and a five-color powder, which can conceal big pores and small wrinkles. It will make your skin complexion look natural and bright.
Cara Pakai:
- Ambil BB Cream secukupnya dan ratakan pada wajah
- Aplikasikan bedak menggunakan sponge atau kuas sampai rata
Tony Moly Party Lover Tony Tint Apple
IDR 85.000

Liptint dengan tekstur cair mirip spt Tony Moly mini tint, non glossy, warna tahan lama walaupun setelah dipakai makan / minum

[Direction]
Smears content for tip and draws along lips line.
Tony Moly Latte Art Cappuccino Cream-In Scrub 95 g
IDR 145.000

This scrub, with an additional massaging effect, contains the active ingredients of coffee and milk extracts, which work to remove flaky, dry and dead skin cells. It also removes impurities from the skin, while also providing nutrition. In addition, the ingredient of peptide supplies firmness to the skin, and the ingredient of O2 Carrier Complex makes the facial contour slimmer.

Cara Pakai:
- Pakai setelah memcuci muka
- Ambil secukupnya dan aplikasikan pada muka sambil dipijit lembut
- Basuh dengan air hangat saat warna scrub berubah
Tony Moly Tomatox Magic White Massage Pack / 80 g
IDR 135.000
Produk multi-fungsi ini memberikan fungsi mencerahkan dan efek vitalitas saat dipakai. cream ini membuat kulit lembut dan bersih serta memberikan vitalitas, benar-benar mengklarifikasi,mencerahka
n, hydrating dan melindungi kulit, membuat kulit luar biasa terang dan kenyal.

Hoow To Use:
1. Wash and towel dry the face gently.
2. Take an appropriate amount and softly massage over the face with fingertips for about 1 – 2 minutes.
3. Leave it as mask pack for 5 – 10 minutes.
4. Gently rinse with tepid water.
5. Tenderly towel dry the skin with light patting motions.
6. Use twice or thrice a week. Or use daily if necessary.

Expert triple BB cream SPF45PA+++ 10g
IDR 115.000

Expert triple BB cream SPF45PA+++ Diffused reflection makes prism effects under any lights, complets spotless shiny skin Expert 3D Collagen BB cream SPF40PA+++ Boosting Collagen synthesis effect helps skin reconstruction. Filling between the wrinkle makes the skin silky and elastic Expert Hiaruronsan BB cream SPF37, PA+++ Hiaruronsan and deep ocean water wake your skin cells, enhance moisturizing and elastic effect. Birch sap maintains moisture balance and moistrurizing effect Red ginseng extract – anti-aging, strengthening skin immunity Organic Lavender – antibacterial, relaxing, protect skin Beta-glucan – skin reconstruction, healing, UV protection Birch sap – moisturize, antinflammatory effect Deep ocean water- contain minerals, anti-aging, moisturizing, elasticity effect

Cara Pakai:
- Ambil Seruas jari
- Aplikasikan pada wajah yang sudah bersih, hingga merata
- Bubuhkan bedak padat atau tabur agar hasil lebih maksimal
Tony Moly Intense Repair Dual Effect Sleeping Pack Sachet
IDR 8.000
2 @ 7.500
4 @ 7.250
6 @ 7.000
8 @ 6.500
10 @ 5.500
This dual functional sleeping pack contains a wrinkle-improving functional ingredient of adenosine and a skin whitening functional ingredient of arbutin. It makes dull, sagging, and wrinkled skin young and healthy
Setelah

M

embersihan wajah

, Aplikaskan

sleeping pack sepanjang

tekstur

kulit di sekitar daerah

wajah dan leher

dengan lembut

dan

tepuk-tepuk hingga menyerap

.
Tony Moly 7 Days Long-last Tattoo Eyebrow Pen
Warna yang dihasilkan oleh Tony Moly Tattoo Eyebrow ini sangat natural tidak seperti Pensil alis pada umumnya.tahan lama hingga 7 hari
How to use:

1) Your eyeblow draws carefully use this product after washing face at night.
2) Draws how feel thick and when you need to revise it,please,use cotton swap before dry it.
3) It's so comfortable what use it before 1~2 hours go to bed.so, your eyebrow feels completely after 6 hours.
4) When do you re-touch at thin eyeblow after 3~4 days,your eyeblow can stay to lasting effets.
Luminous Aura CC Cream / 50 g
TONYMOLY Luminous Pure Aura CC Cream membuat warna kulit sempurna alami menyediakan perubahan warna alami dan efek perawatan kulit dengan cahaya lembab. Hitam / merah / kuning kapsul warna muncul dan sempurna mencampur setelah menerapkan pada kulit secara alami menyembunyikan kemerahan dan ketidaksempurnaan. 7 Free - parabene, benzo fenon, bedak, minyak mineral, pigmen organik, sulfat
surfaktan.
- [NEW] TONYMOLY Luminous Pure Aura CC Cream
- CC cream makes perfectly natural skin tone as providing natural color change and skin care effect with moist radiance.
- Black/red/yellow color capsule pops and perfectly mixes up upon applying on skin to naturally conceals redness and imperfections.
- 7 Free - parabene, benzo phenon, talc, mineral oil, organic pigment, sulfate surfactant, Triethanolamine
- 50ml

Cara Pakai:
- Bersihkan Wajah terlebih dahulu
- Aplikasikan CC Cream menggunakan tangan atau kuas, ambil secukupnya dan ratakan pada wajah
- Dapat di tambahkan bedak tabur untuk hasil lebih maksimal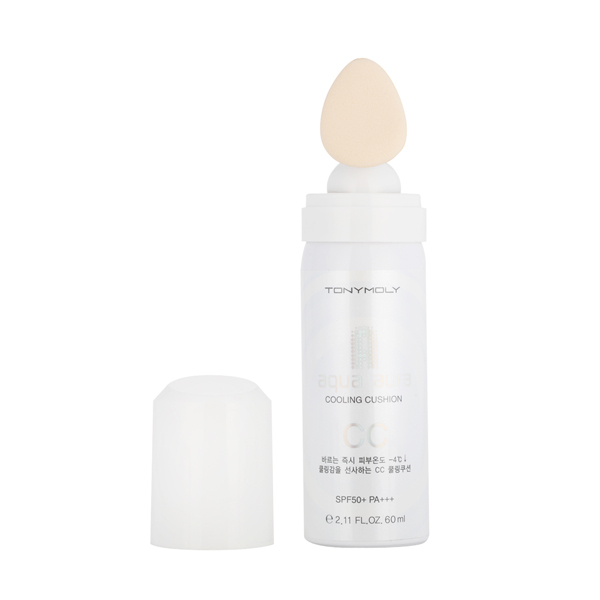 [TONYMOLY] Aqua Aura Cooling Cushion SPF50+PA+++ 60ml
Total new cooling cushion for summer season.
: water mist + clooing effect + UV protection + primer + BB cream + anti-wrinkle + whitening
: make face cooler -4c instantly
: attached puff naturally applied on whole face
1. Shake a bottle well and press button 1~2 seconds to dispense contents. (DO NOT press on your face directly)
2. Apply along the texture of your face. Apply once again if needed.
TONY MOLY Lip Skin New Catchu Wink Tony Tint Mini


IDR 35.000




2 @30.000





Catchu Wink Tony Tint Mini pemerah bibir dari Korea dengan tekstur berminyak, dan mempunyai tekstur yang ringan tidak seperti memakai lipstik umumnya. Awet & tahan lama, bahkan untuk dipakai saat makan, cocok bagi yang mencari kesempurnaan penampilan tetapi sungkan memakai lipstick. mudah diserap jadi tidak meninggalkan bekas

pada pakaian putih, tahan lama, dan membuat bibir tidak terlihat pucat.

Cara penggunaan Catchu Tony Tint:
> Teteskan 2-3 tetes lip tint di bibir atas dan bawah.
> Biarkan terserap atau gesekkan bibir perlahan agar merata.
> Bibir langsung merona alami.

Made in Korea
Mist in Berry Fragarances
Mist the fresh for the body.
Makes the skin soft and smooth.
It also Moisture riser to the surface fragrance of Green Floral Freity so refreshing.
Hale
Extracts from the berry complex extract (Blueberry extract, Cranberry extract, Strawberry extract, Rasberry Extract, Blackberry extract, Acai berry extract, Aronia extract, Elderberry extract and Argan Tree Cornel extract helps provide moisture and strength to the skin.
After a bath towel to dry.
Body Mist spray.
Over your body and tap for Tsu º Saab into the skin.
Time is often needed to go out to some sunshine
Appletox Smooth Massage Peeling Cream
Tony Moly Appletox Smooth Massage Peeling Cream contains keratin extracted from green apple, papaya and other fresh vegetables to provide moisture and to better eliminate waste and clean up old skin cells.
The active fruit acids contained in green apples eliminate cuticles in pores, allowing the skin to have more effective absorption of the nutrients provided by masks and other daily skin care products.
The keratin extract of papaya leaves the skin fresh, transparent and clean. By giving a massage, you will make your skin healthier and livelier.
Instructions: It's instructions are all in Korean.
First put a thin layer of the cream on your skin, a little thinner then below. It should be white but you should be able to see through it. Then let sit until it is almost dry, about 10 or 15 minutes, may take longer in humid climates. Do not leave on longer then 20 or 30 minutes. Then go to the sink or shower and try to rub off, if product is not rubbing off or is irritating the skin use a few drops of water. Rub until all product is off, then wash your face. And you are all finished. *I would be very careful with this product if you have sensitive skin, I think this product is not intended for sensitive skin, it makes me a little red sometimes after use.* I would use this product at night.